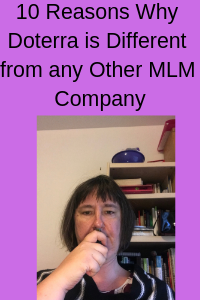 Are you curious why the Doterra MLM company is different from other MLM's? Here are 10 reasons why. Watch the video below to learn even more.
1. They don't give out cars.
2. They offer buy one get one free on a variety of products 3-4 times per year.
3.They give us lots of free products for being on autoship.
4. They are committed to not only changing the lives of people in the United States by also helping the poorest of the poor throughout the entire world. They do this by specifically seeking out third world countries where the plants that produce high quality essential oils grow naturally and helping their citizens to earn a living producing essential oils. In addition they also have a non-profit- the healing hands foundation that helps these people with schools, education, hospitals, medical clinic and more.
5. The Free to Give program- This program encourages you to get out of debt and stay out of debt through a systematic debt elimination system and budgeting system.
6. There is no hype at company conventions. We don't see paychecks, people talking about how much money they have made and other promises. Instead the focus is on changing lives.
7. They work together with medical professionals, hospitals and Western Medicine. Most other health and wellness MLMS, ignore these people at best and in some cases, try to belittle them. Doterra works on integrating with traditional medicine and on research projects with Western Medicine professionals and facilities.
8. Most health and wellness companies focus only on one aspect of health. Doterra focuses on all areas of health including emotional health.
9. Doterra offers wholesale memberships with the same discounts on products and customer perks to people who don't want to be business builders. This allows customers to benefit from our products without having to sign up for a business account.
10. Doterra pays more on your 6th level than on your 1st level. Most companies are the opposite of this. This allows you to over time earn more money since most people eventually have higher numbers of people on their 6th level than they do on their first.
Curious to learn more about Doterra? Want to consider joining my team. Click this link to apply.
Did this help you? If so, I would greatly appreciate a comment and a share on Facebook, twitter, linkedin, or pinterest.
Chat with me
Serious about wanting to work with me to help create better health and wealth in your life? Apply to join my home business team.